I'm starting a new unintentional trend of Great Fridays. I can't help it... I love Fridays. Today I am featuring some really spectacular bookends (to decorate those really awesome bookshelves from
Great Bookcase Friday Part 1
and
Part 2
). Personally, I rarely need bookends, as my shelves are crammed one end to the other with books (and often have slanty books propped atop those), but I love the idea of enough shelf space to warrant fancy bookends...
High five for books! Round of applause!
Available from
Daily Planner
, $27.50 (I've seen these elsewhere, too)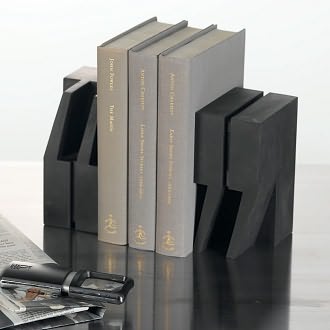 Quotation marks. What could be better to frame our favorite words?
Available from
Barnes & Noble
, $89.95
Rosie the Riveter Bookends. Girl Power!
Available from
Uncommon Goods
, $34.
Leaning men bookends. Holding each other up?
Available from
Amazon
, $27.
Does anyone else think it odd that the bookends are only shown with 2-3 titles in between? Wouldn't most people actually using bookends have more than that? I'd call that missing your target audience, myself...