I've done Great Bookcases, so how about great book covers? Check out these awesome ways to spruce up your literature - or hide that shameful cover.
Make them think you're reading the great classics... or maybe you really are?
(Available at
Book City Jackets
)
Great bird frame, and other artwork.
(Also available at
Book City Jackets
)
Another great bird cover. I like birds.*
(Available from the
HideABook Etsy Shop
in multiple patterns)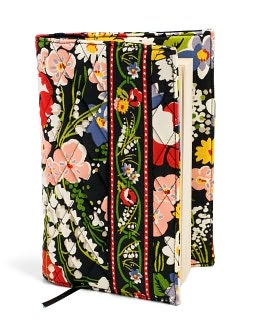 The Vera Bradley option. Most likely available with matching purse, eyeglass case, mirror, wallet, etc. You know the drill.
(Available from
Barnes and Noble
)
Any other great book covers out there? There are a plethora of e-book reader covers, but surprisingly fewer book covers...
-----
* So much so that I have a tattoo of one's silhouette. Mostly so I can say/write/type the word silhouette more often.